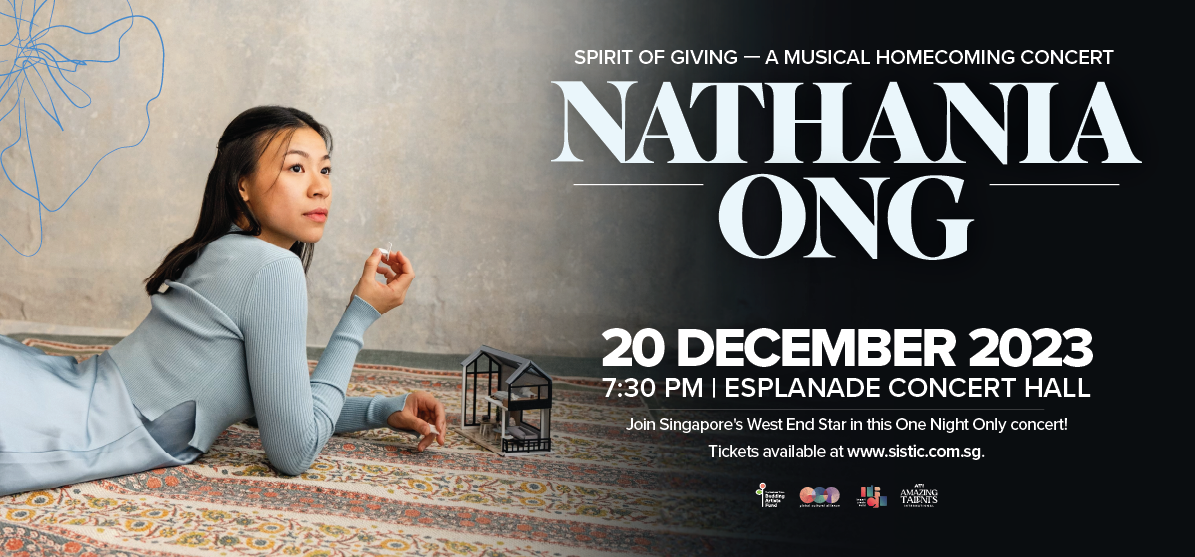 Spirit of Giving: Nathania Ong - A Musical Homecoming Concert [Rating: TBA]
20 Dec 2023 (Wed)
41 Views
Date and Time
20 Dec 2023 : 19:30 - 21:30
---
Location / Links
Esplanade Concert Hall
---
$66.00 - $185.00
41 Views
Event Details
After an arduous five-year journey in the United Kingdom, Nathania Ong is the first Singaporean to portray the iconic role of Eponine in West End's enduring masterpiece, Les Misérables. Spirit of Giving: Nathania Ong - A Musical Homecoming Concert welcomes Nathania Ong back in Singapore, to grace the Esplanade Concert Hall with an enchanting evening of musical theatre masterpieces!

Her remarkable journey, from being cast by the world-renowned producer Cameron Mackintosh to her standing ovation-worthy rendition of "On My Own" at the Big Night of Musicals, is a testament to her talent and tenacity. Nathania studied acting at LaSalle College of the Arts before graduating with BA (Hons) in Musical Theatre from the prestigious Mountview Academy of Theatre Arts, London, in 2021, and her star has continued to rise ever since.

This extraordinary event promises an array of songs that showcase Nathania's high standards of artistry and stagecraft, creating an experience that is not to be missed. The musical extravaganza will include renditions of beloved classics like Don't Rain On My Parade and a Disney Medley that promises to transport the audience to a world of dreams. Add " She will be joined on stage by her father Kevin Ong in their heart warming duet, The Prayer. Accompanied by a talented orchestra led by conductor Kelvin Loh, this concert guarantees to be a treat for fans of all ages.

Be enthralled by our exceptionally gifted young performers Loic Lastennet, Melissa Hecker, Syah Riszuan and Corey Koh, as they welcome you at the pre-show!

Spirit of Giving: Nathania Ong - A Musical Homecoming Concert is a charity concert organized by TRCL, and co-produced by Amazing Talents International and Global Cultural Alliance, in aid of the Business Times Budding Artists Fund. Nett proceeds from the concert will go towards making the arts more accessible to underserved children and youths in Singapore.

Please visit our Giving.sg page to make an additional donation towards the show here.

Join us at the Esplanade Concert Hall on 20th December 2023 for a musical experience that celebrates talent, uplifts lives, and embodies the true spirit of giving.
Admission Rule
Rating / Age Limit


Rating: To be Advised
Infants in arms or children below the age of 4 shall not be admitted.
Children aged 4 years and above must purchase tickets for admission.
Admission is subject to tickets produced at the entrance.


Late Seating Advisory


You are strongly advised to be seated before the performance start time.
Latecomers will be admitted during suitable breaks, if any.
Exceptions may be made at venue's discretion depending on the nature of the performance.


Photography / Video Recording Rules


No flash photography, unauthorised professional photography, video and audio recording is allowed for this event.
IPads and tablets are not allowed for the event.
Please note that photographs and videos of patrons may be taken at this event for use in our archival and publicity material.
Events That Match Your Vibe
Be The First To Catch the Hottest Events
Why settle for the ordinary?
Don't wait in line. Get the newest and hottest event updates sent to you!