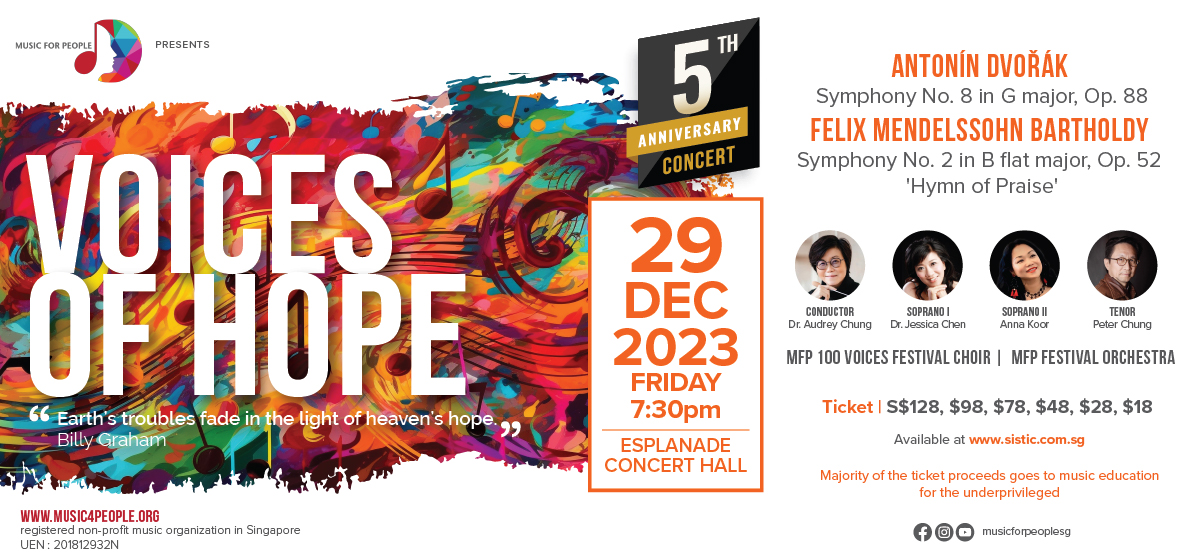 Voices of Hope [G]
29 Dec 2023 (Fri)
4 Views
Date and Time
29 Dec 2023 : 19:30 - 21:30
---
Location / Links
Esplanade Concert Hall
---
Event Details
"Voices of Hope" by Music for People is an upcoming classical concert that promises to transport audiences into the rich world of 19th-century romanticism through the masterful compositions of Felix Mendelssohn Bartholdy and Antonín Dvořák. With a symphony orchestra, a hundred-member choir, and expert direction by Dr. Audrey Chung, this event marks Music for People's 5th Anniversary, as well as their first live concert since the pandemic. It aims to usher in the New Year with joy and positivity, using the power of music to inspire and uplift.Music For People's past performance on Dvořák's Mass in D was recognised as one of the very best renditions of Dvořák's original text, with a large choir and orchestral accompaniment. For "Voices of Hope", you can expect the same immersive experience with the hundred-member choir and prominent Asian vocalists, including Soprano Dr. Jessica Chen, Mezzo-Soprano Anna Koor and Tenor Peter Chung and the MFP Festival Orchestra."Voices of Hope" is more than a concert; it's a celebration of music's enduring power to extends its reach beyond the concert hall.  It engages amateur and professional musicians from the community and the region and supports music education for the underprivileged.  Come and join us for this meaningful concert and start the year with joy and hope.FEATURING
Dr. Audrey Chung, conductor 
Dr. Jessica Chen Hsing-An, Soprano I
Anna Koor, Soprano II
Peter Chung, Tenor
MFP 100 Voices Festival Choir 
MFP Festival OrchestraPROGRAMME
ANTONÍN DVOŘÁK Symphony No. 8 in G major, Op. 88
FELIX MENDELSSOHN BARTHOLDY Symphony No. 2 in B flat major, Op. 52 'Hymn of Praise'
Admission Rule
Rating / Age Limit


Rating: General
Children must be age 7 and above to be admitted into the hall.
Children under 7 will not be admitted into the hall, even with a ticket.
Please bring along proof of child's age, such as student concession pass, as random checks may be conducted at the venue.
We reserve the right to ask parents to bring children out of the hall should they be disruptive during the performance.
No admission without a ticket.


Admission / Re-admission


You are strongly advised to be seated 15 minutes before the performance start time.
Latecomers will only be admitted at appropriate pauses during the show or during intermission, if any. 


Photography / Video Recording Rules


Unauthorised photo and video recordings are strictly not allowed/
Photos and videos will be captured during the event, and you may be featured in them. These visuals could be showcased or shared on MFP's website, social media channels, publications, and promotional materials. Your presence at the event implies your consent for these images and videos to be used for the mentioned purposes.
Events That Match Your Vibe
Be The First To Catch the Hottest Events
Why settle for the ordinary?
Don't wait in line. Get the newest and hottest event updates sent to you!