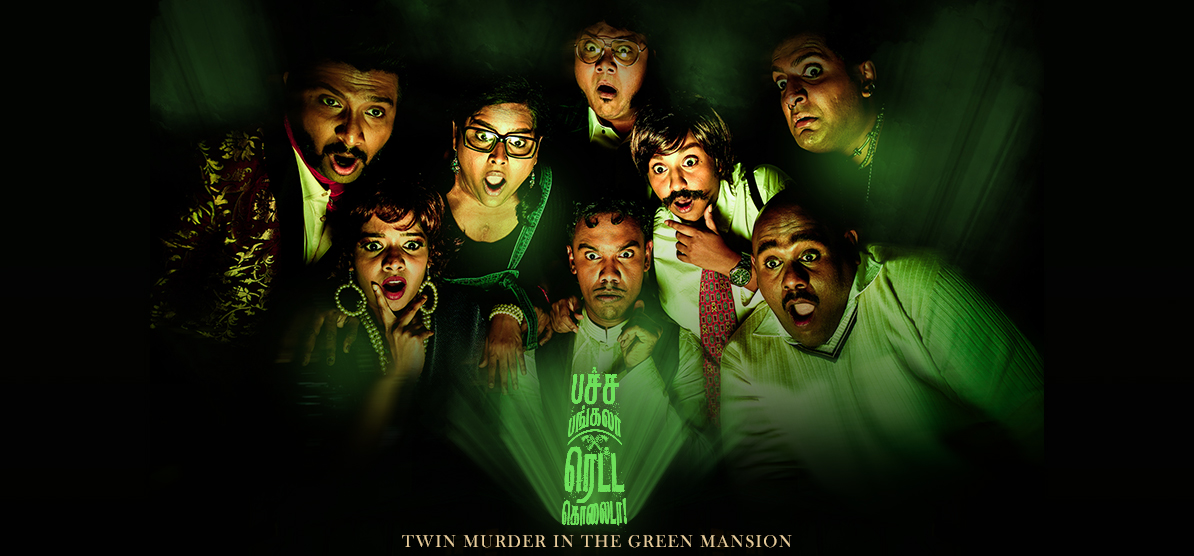 Esplanade Presents | Kalaa Utsavam 2023 • பச்ச பங்களா ரெட்ட கொலடா (Twin Murder in the Green Mansion) by Agam Theatre Lab (Singapore) • An Esplanade Co-Production
24 Nov 2023 (Fri) - 26 Nov 2023 (Sun)
25 Views
Date and Time
24 Nov 2023 : 20:00 - 22:00
25 Nov 2023 : 15:00 - 17:00
25 Nov 2023 : 20:00 - 22:00
26 Nov 2023 : 15:00 - 16:30
---
Location / Links
Esplanade Theatre Studio (Level 4)
---
Event Details
Killarious Chaos at the Green Mansion!

"Break a leg!" takes on a whole new meaning for a woefully misguided troupe of players at the Chutney Drama Society's opening night performance of Pachae Bungalaa, Rettae Kolaedaa. An unconscious leading lady, a corpse who can't play dead, a ruffled detective, and a word-mangling butler (among others) must battle against technical gaffes, forgotten lines, and sabotaging scenery in a quest to arrive all in one piece at the final curtain call. Part Monty Python, part Sherlock Holmes, all mayhem, this disastrously delightful whodunit will leave you in stitches! Twin Murder in the Green Mansion is inspired by the British play, The Play That Goes Wrong.
Admission Rule
Admission Rules of Esplanade:

Rating/Age Limit

- Admission is subject to tickets produced at the entrance.

- Infants in arms or children below the age of 6 shall not be admitted.

- Children aged 6 years and above must purchase ticket for admission.

Late Seating Advisory

- You are strongly advised to be seated before the performance start time.

- Latecomers will be admitted during suitable breaks, if any.

- Exceptions may be made at Esplanade's discretion depending on the nature of the performance.

Photography/Video Recording Rules

- No unauthorised photography, video and audio recording is allowed for this event.

- Please note that photographs and videos of patrons may be taken at this event for use in our archival and publicity material.

Help Us Keep Everyone Safe

- Strictly no food & beverage allowed in the performance venues.

- Stay at home if you're unwell.
Events That Match Your Vibe
Be The First To Catch the Hottest Events
Why settle for the ordinary?
Don't wait in line. Get the newest and hottest event updates sent to you!