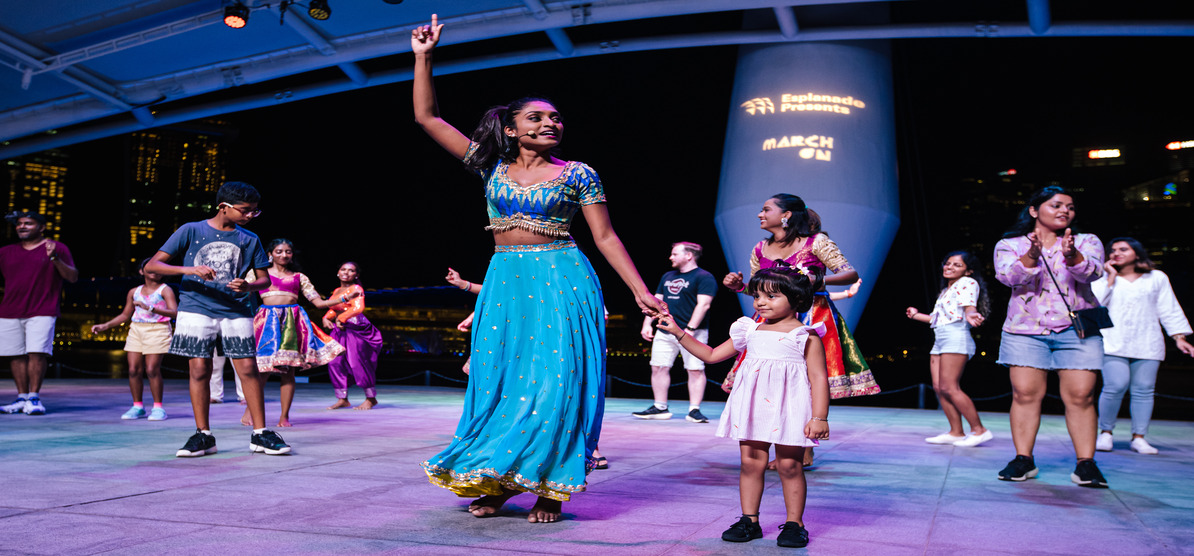 Esplanade Presents | Kalaa Utsavam 2023 • Bollywood Dance Parent-Child Workshop by Royalusion (Singapore)
19 Nov 2023 (Sun)
9 Views
Date and Time
19 Nov 2023 : 11:00 - 12:30
---
Location / Links
Esplanade Annexe Studio
---
Event Details
Come shake and groove to the beats of Bollywood in this basic parent-child Bollywood dance workshop by Royalusion. Bond with your little ones by learning the basics of Bollywood dance and add your own flair to your final routine with the guidance of experienced instructors.

Royalusion is a Singapore-based dance company founded in 2021. With a strong emphasis on diversity, Royalusion takes flight as a performing arts crew that conceptualizes choreographies for a multitude of events. The company aims to redefine boundaries across genres and presents engaging multidisciplinary works. From corporate shows to curated programmes, media productions to large-scale events, Royalusion's innovative choreographies are tailored to suit the unique needs of each project. Royalusion prides itself on delivering high-quality performances that reflect its passion for creative expression and commitment to excellence.
Admission Rule
Admission Rules of Esplanade:

Rating/Age Limit

- Admission is subject to tickets produced at the entrance.

- Infants in arms or children below the age of 6 shall not be admitted.

- Children aged 6 years and above must purchase ticket for admission.

- Accompanying adult must be at least 16 years old.

Late Admission Advisory

- You are strongly advised to arrive before the workshop start time.

- Latecomers will be admitted during suitable breaks, if any.

- Exceptions may be made at Esplanade's discretion depending on the nature of the performance.

Photography/Video Recording Rules

- No unauthorised photography, video and audio recording is allowed for this event.

- Please note that photographs and videos of patrons may be taken at this event for use in our archival and publicity material.

Help Us Keep Everyone Safe

- Strictly no food & beverage allowed in the performance venues.

- Stay at home if you're unwell.
Events That Match Your Vibe
Be The First To Catch the Hottest Events
Why settle for the ordinary?
Don't wait in line. Get the newest and hottest event updates sent to you!