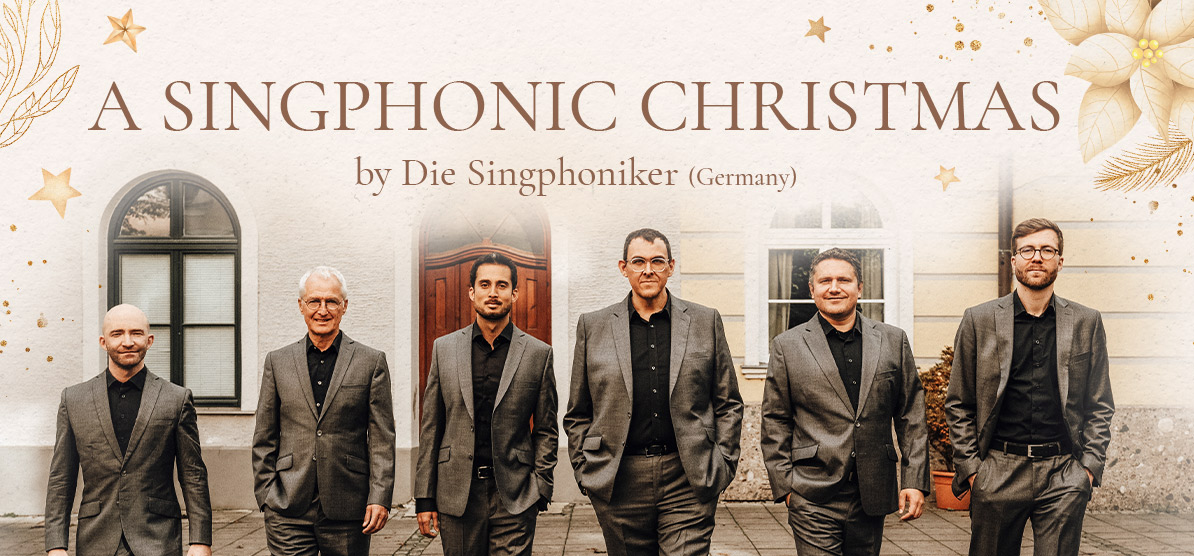 Esplanade Presents | Voices 2023 – A Singphonic Christmas by Die Singphoniker (Germany)
08 Dec 2023 (Fri)
9 Views
Date and Time
08 Dec 2023 : 19:30 - 21:30
---
Location / Links
Esplanade Concert Hall
---
Event Details
"Outstanding" — Gramophone

"A vocal celebration of sublime ensemble sound" — Fono Forum

"The German answer to The King's Singers" — Westdeutsche Zeitung

With more than 1,300 concerts in 29 countries and nearly 40 CD recordings in over 40 years, Die Singphoniker belongs to an exclusive circle of internationally leading vocal ensembles. The ensemble has been setting standards in the vocal scene for over four decades and their repertoire spans from the renaissance to the contemporary. They are widely regarded as the benchmark for romantic repertoires. At their concerts, Die Singphoniker skillfully meld different musical works and styles to craft innovative harmonies. Their sound has been described as warm, finely balanced and powerful. With authentic passion for the music, they captivate and inspire audiences all over the world.

Join Die Singphoniker in this Christmas concert where they artfully combine different works and styles in creating an excitingly new sense of harmony.

Unlock the secrets of ensemble singing and discipline in the Die Singphoniker Choral Workshop led by the renowned group. Enjoy up to 20% savings on the workshop when you purchase a ticket to their concert.
Admission Rule
Admission Rules of Esplanade:

Rating/Age Limit

- Admission is subject to tickets produced at the entrance.

- Infants in arms or children below the age of 6 shall not be admitted.

- Children aged 6 years and above must purchase ticket for admission.

Late Seating Advisory

- You are strongly advised to be seated before the performance start time.

- Latecomers will be admitted during suitable breaks, if any.

- Exceptions may be made at Esplanade's discretion depending on the nature of the performance.

Photography/Video Recording Rules

- No photography and video recording is allowed for this event.

- Please note that photographs and videos of patrons may be taken at this event for use in our archival and publicity material.

Help Us Keep Everyone Safe

- Strictly no food & beverage allowed in the performance venues.

- Stay at home if you're unwell.
Events That Match Your Vibe
Be The First To Catch the Hottest Events
Why settle for the ordinary?
Don't wait in line. Get the newest and hottest event updates sent to you!