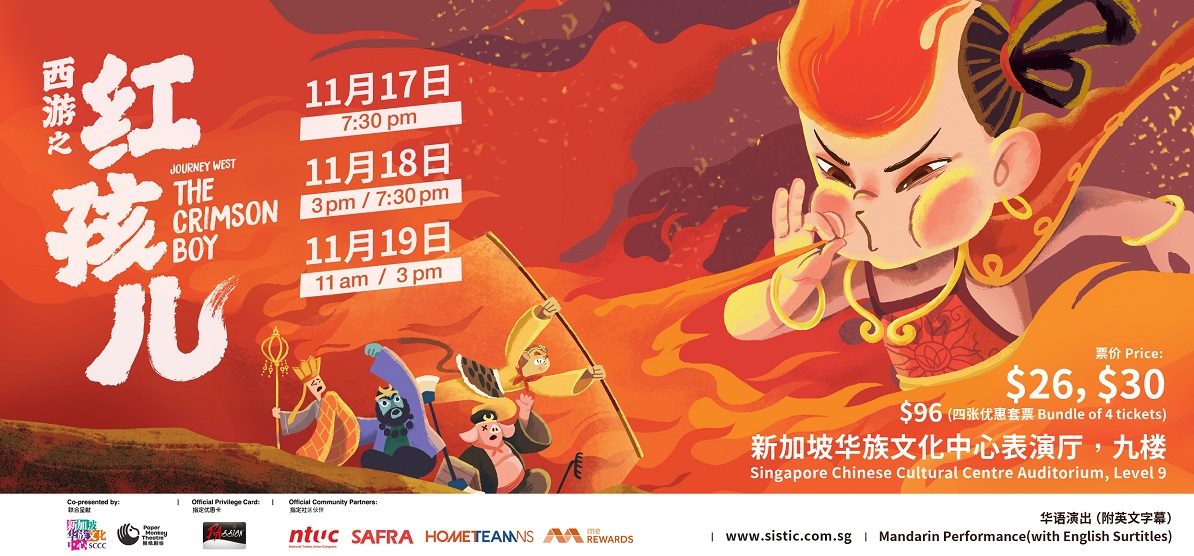 Journey West – The Crimson Boy 西游之红孩儿 [G]
18 Nov 2023 (Sat) - 19 Nov 2023 (Sun)
48 Views
Date and Time
18 Nov 2023 : 15:00 - 16:00
18 Nov 2023 : 19:30 - 20:30
19 Nov 2023 : 15:00 - 16:00
19 Nov 2023 : 11:00 - 12:00
---
Location / Links
Level 9 新加坡华族文化中心远东机构表演厅, 九楼,SCCC Far East Organization Auditorium
---
Event Details
In this episode, Tripitaka's team encounters the powerful Crimson Boy, son of the Bull Demon King and Princess Iron Fan. Despite being 300 years old, he wields True Samadhi Fire and possesses great strength. Capturing Tripitaka, he plans to offer the monk's meat to his parents to prevent their divorce, believing he's the cause of their strife. Sun Wukong is defeated but seeks help from the Goddess of Mercy, who forgives Crimson Boy and takes him as her disciple. The demon releases Tripitaka, and the group continues their westward journey for the holy scriptures.Written and directed by artistic director of Paper Monkey Theatre, Benjamin Ho, Journey West - The Crimson Boy will see new puppets and new music composed by SAtheCollective. The performance will feature traditional Chinese hand-puppets and pili puppets handcrafted by the well-known second-generation Taiwanese puppet-maker, Mr Hsu Chien-Jhang.
Admission Rule
Rating / Age Limit


Rating : General
No admission for infants in arms and children below 4 years old
Children 4 years and above must purchase a ticket for entry
Admission is subject to tickets produced at the entrance


Photography / Video Recording Rules


No Flash Photography, Video recording and Audio recording is allowed for this event
Events That Match Your Vibe
Be The First To Catch the Hottest Events
Why settle for the ordinary?
Don't wait in line. Get the newest and hottest event updates sent to you!