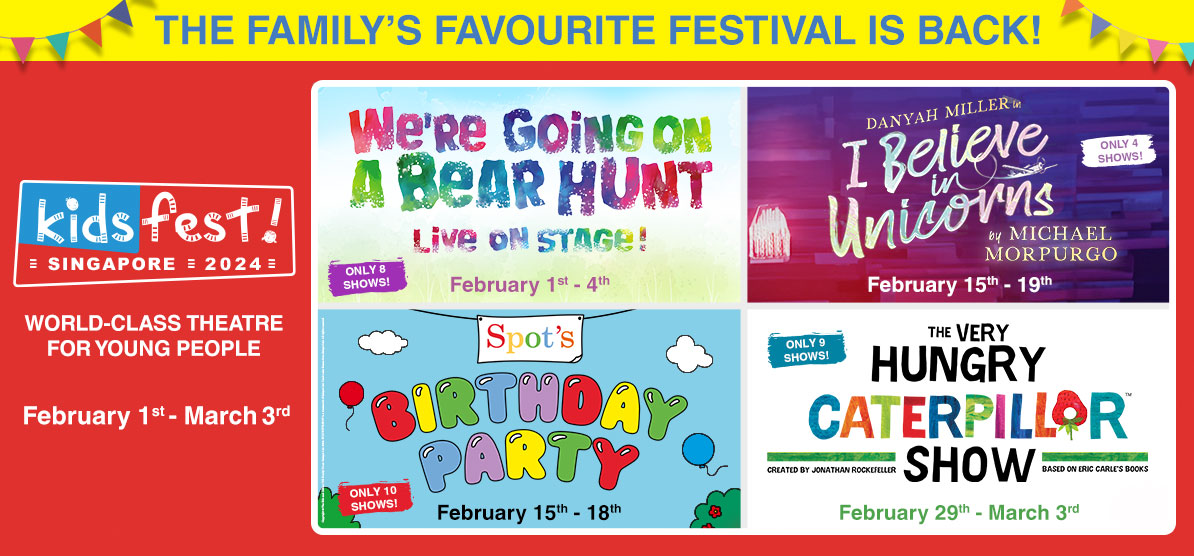 KidsFest 2024 [G]
01 Feb 2024 (Thu) - 03 Mar 2024 (Sun)
6 Views
Date and Time
01 Feb 2024 : 17:00 - 17:55
03 Feb 2024 : 11:00 - 11:55
02 Feb 2024 : 17:00 - 17:50
04 Feb 2024 : 11:00 - 11:55
03 Feb 2024 : 14:30 - 15:25
03 Feb 2024 : 17:00 - 17:55
04 Feb 2024 : 14:30 - 15:25
04 Feb 2024 : 17:00 - 17:55
24 Feb 2024 : 11:00 - 12:00
24 Feb 2024 : 15:00 - 16:00
25 Feb 2024 : 11:00 - 12:00
25 Feb 2024 : 15:00 - 16:00
29 Feb 2024 : 17:00 - 18:00
01 Mar 2024 : 16:30 - 17:30
01 Mar 2024 : 19:00 - 20:00
02 Mar 2024 : 11:00 - 12:00
02 Mar 2024 : 14:30 - 15:30
02 Mar 2024 : 17:00 - 18:00
03 Mar 2024 : 11:00 - 12:00
03 Mar 2024 : 14:30 - 15:30
03 Mar 2024 : 17:00 - 18:00
15 Feb 2024 : 11:00 - 11:55
15 Feb 2024 : 14:30 - 15:25
15 Feb 2024 : 17:00 - 17:55
16 Feb 2024 : 17:00 - 17:55
17 Feb 2024 : 11:00 - 11:55
17 Feb 2024 : 14:30 - 15:25
17 Feb 2024 : 17:00 - 17:55
18 Feb 2024 : 11:00 - 11:55
18 Feb 2024 : 14:30 - 15:25
18 Feb 2024 : 17:00 - 17:55
Show More
Show Less
---
Location / Links
Victoria Theatre
---
Event Details
WE'RE GOING ON A BEAR HUNT
We're going to the theatre
We're going to see a Bear Hunt
What a beautiful play!
We're not scared...

The smash-hit production of We're Going on a Bear Hunt returns vividly and noisily to KidsFest! in director Sally Cookson's fun-filled adaptation set to Benji Bower's versatile lively score, direct from the West End.

Join our intrepid family of adventurers and their musical dog on a quest to find a bear; as they wade through the gigantic swishy swashy grass, the splishy splashy river and the thick oozy, squelchy mud! Expect catchy songs, interactive scenes, plenty of adventure and a few surprises along the way!

Adapted for the stage from the modern classic written by Michael Rosen and illustrated by Helen Oxenbury.


SPOT'S BIRTHDAY PARTY
Spot is having a very special birthday party and you're invited!

With party hats, songs, dancing and lots of interactive party games, this is going to be the best birthday party ever!

Join Steve the monkey, Tom the Crocodile and Helen the Hippo to say a big HAPPY BIRTHDAY SPOT!

Based on the beloved Eric Hill classic Happy Birthday Spot, this brand-new adaptation brings your favourite pup and his friends to life in an interactive and accessible show suitable for ages 2 plus and their grown ups.


I Believe in Unicorns
"I Believe in Unicorns is a beautifully crafted show that is utterly engaging from beginning to end." ★★★★★ Theatre Weekly

Tomas loves playing outdoors… he hates school, books and being dragged to the library by his mother. But his world is turned upside down the day he meets the Unicorn and the Unicorn Lady and is spellbound by their story. Discover the power of storytelling to transform lives as Tomas, with his newfound love of books, becomes instrumental in saving his burning library when his village is devastated by war. We challenge you not to believe in unicorns…absolutely!


THE VERY HUNGRY CATERPILLAR SHOW
"Bedazzling. This production will mesmerize audiences"NY Times

The Very Hungry Caterpillar Show has been dazzling audiences around the globe for over seven years, faithfully bringing to the stage Eric Carle's timeless classics. Created by Jonathan Rockefeller, this production of the critically acclaimed show features a menagerie of over 75 magical puppets, including the star of the show –The Very Hungry Caterpillar. Translated into 62 languages and having sold over 43 million books, it remains in the top ten best-selling books of all time.
Admission Rule
Rating / Age Limit


Rating: General
For children aged 3 and above and their families
All patrons must purchase a ticket for entry
Admission is subject to tickets produced at the entrance


Late Seating Advisory


For the enjoyment of all audience members, all events start promptly at the time printed on the ticket.
Please be seated 15 minutes before the performance start time.
Late arrival may result in non-admittance until a suitable break in the performance.


Photography / Video Recording Rules


Photography, Video recording & Audio recording is not allowed for this event
Events That Match Your Vibe
Be The First To Catch the Hottest Events
Why settle for the ordinary?
Don't wait in line. Get the newest and hottest event updates sent to you!