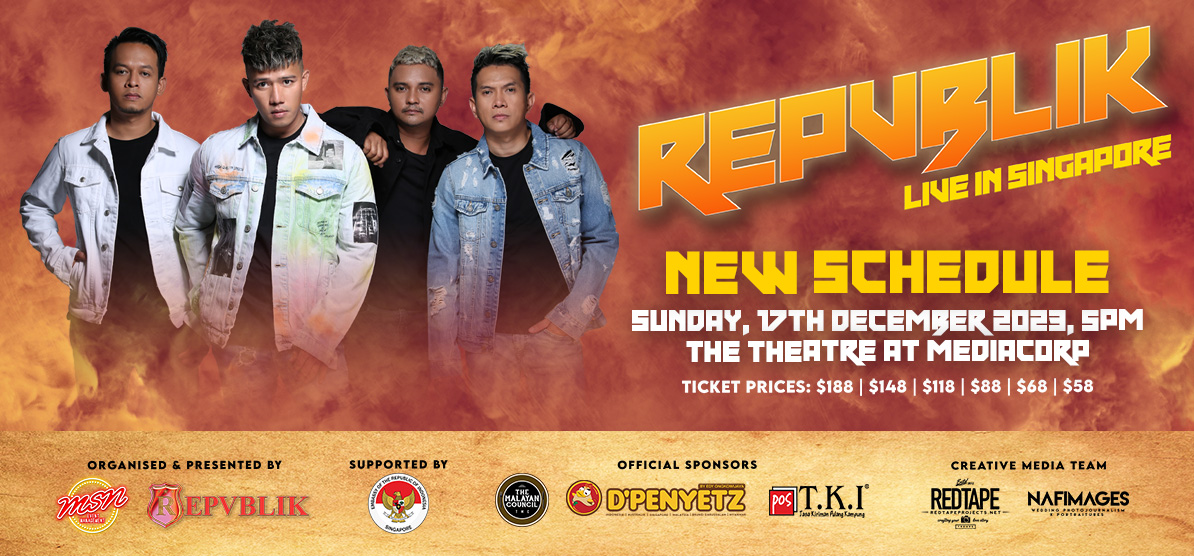 REPVBLIK - LIVE IN SINGAPORE [Rating: TBA]
17 Dec 2023 (Sun)
6 Views
Date and Time
17 Dec 2023 : 17:00 - 19:00
---
Location / Links
The Theatre at Mediacorp
---
Event Details
Repvblik Concert – Live in Singapore 2023

Prepare for an electrifying night of music as one of Indonesia's most iconic bands, Repvblik, takes center stage in Singapore for an unforgettable concert experience. With their chart-topping hits and heartfelt lyrics, Repvblik has captured the hearts of fans across Southeast Asia, and now they are set to enchant the Lion City with their soul-stirring melodies and captivating performances.

Repvblik led by Ruri (Vocalist), Lavy (Bassist), Tyar (Keyboardist), and  Ei (Lead Guitarist)., known for their powerful vocals and emotionally charged songs, will be bringing their signature blend of pop and rock to Singaporean fans in a spectacular live performance. The concert promises an immersive journey through the band's extensive repertoire of hits, leaving the audience with an unforgettable night of music and memories.

Highlights of the concert include:

Greatest Hits: Repvblik will serenade the audience with their chart-topping singles, including "Sandiwara Cinta", "Aku Takut," "Sakit Aku Sakit," "Selimut Tetangga," and many more. Fans can expect to sing along to their favorite anthems, creating an atmosphere of unity and nostalgia.

Emotional Ballads: Repvblik is renowned for their emotionally charged ballads that tug at the heartstrings. Prepare to be moved by their soulful renditions and heartfelt lyrics that speak to the complexities of love and relationships.

Engaging Stage Presence: The band's charismatic frontman and talented musicians will deliver a high-energy performance that keeps the crowd engaged from start to finish. Their stage presence and interaction with the audience will ensure an intimate and memorable concert experience.

Don't miss the opportunity to witness Repvblik's magnetic performance as they share their music and passion with Singaporean fans. It's a night that promises to resonate deeply with all attendees, leaving them with lasting memories of a sensational concert by one of Indonesia's most beloved bands. Book your tickets now for a musical journey you won't want to miss!
Admission Rule
Rating / Age Limit


Rating: To Be Advised
No admission for infants in arms and children below 3 years old
Children 3 years and above must purchase ticket for entry
Admission is subject to tickets produced at the entrance


Late Seating Advisory


You are strongly advised to be seated 15 minutes before the performance start time
No admission will be allowed into the venue once the performance has commenced


Photography / Video Recording Rules


No Photography, Video recording and Audio recording is permitted for this event.
Events That Match Your Vibe
Be The First To Catch the Hottest Events
Why settle for the ordinary?
Don't wait in line. Get the newest and hottest event updates sent to you!