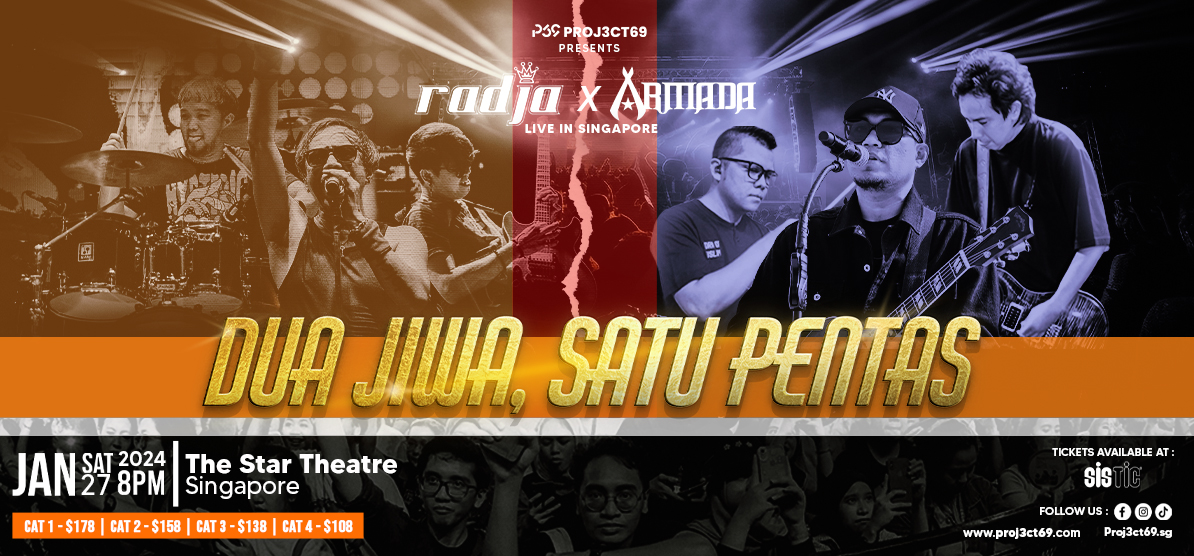 Radja X Armada - Dua jiwa satu pentas [G]
27 Jan 2024 (Sat)
3 Views
Date and Time
27 Jan 2024 : 20:00 - 22:00
---
Location / Links
The Star Performing Arts Centre,The Star Theatre
---
Event Details
"Proj3ct69 proudly present Radja X Armada band Live In Singapore!" 

Get ready to witness "Radja" and "Armada" Bands, withtheir long-awaited concert in Singapore this January 2024, 27th January at Star Theatre. Radja is a music group from Banjarmasin, Indonesia, founded on March 17, 2001, which consisted of Ian Kasela (vocalist), Moldy (guitarist), and Seno Aji Wibowo (drummer). They are one of Indonesia's prominent bands which has received several awards including Double Platinum with sales reaching 400,000 copies with list of songs entitled ' Cinderella ', ' Manusia Biasa ', ' Tulus ', ' Bulan ' and ' Jujur '." And Armada, the band formed in 2007, is about Rizal, Mai, and Andit. The phenomenal song ' Asal Kau Bahagia ' has been viewed by 400 million viewers on YouTube and 47 million on Spotify. With 6 albums and a bunch of hit singles, Armada sure is one of the best bands in Indonesia, with six albums and a bunch of hit singles. In 2021, after the release of ' Aku Di Matamu ' in February, they returned to ' Halu Boss.' Both singles became part of their 7th album, ' Kita Bersaudara,' which has been sold over 400 thousand copies in just six months into its release in Indonesia alone.

For the very first time, we get both TOP bands on one stage. Do catch them, Radja and Armada, 27th Jan 2024 at The Star Theatre, 8pm. 

Do follow us – 

Instagram – proj3ct69.sg
Facebook – proj3ct69.sg
Tiktok – project69.sg
Linktree – Proj3ct69
Admission Rule
Rating / Age Limit


Rating: General
No admission for infants-in-arms and children age below 7 years old
Children aged 7 years and above must purchase a ticket for entry
Admission is subject to tickets produced at the entrance


Late Seating Advisory


Please be seated 15 minutes before the performance start time. There will be no admission into the venue once the performance has commenced. Admission may only be permitted during a suitable pause, depending on the nature of the performance


Photography / Video Recording Rules


Video recording is not allowed for this event


Booster Seats


Booster seats are available on a first-come-first- served basis, from 1 hour prior to event start time. They are not guaranteed and are not included with the purchase of your ticket. Patrons are welcome to bring their own


Additional Info


No outside food and beverage is allowed into the venue.


Accessibility Info:


Please be advised there are steps leading to most seats in the auditorium.
Due to restricted lift access to The Star Theatre, kindly approach any of the ushers on event day for lift assistance. For more information, please email The Star PAC Front-of-House at info@thestar.sg
Designated wheelchair accessible seating is available at all levels.


Wheelchair users: please contact SISTIC Hotline at +65 6348 5555 prior to making a booking.
Events That Match Your Vibe
Be The First To Catch the Hottest Events
Why settle for the ordinary?
Don't wait in line. Get the newest and hottest event updates sent to you!