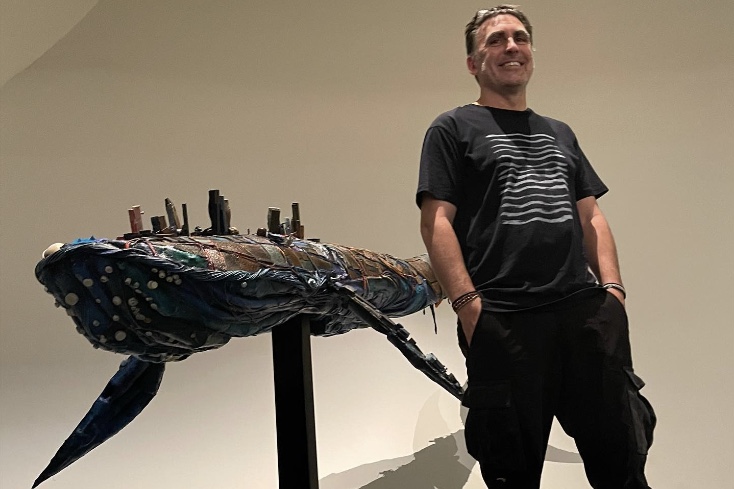 Red Dot Sky Whales
16 Jan 2024 (Tue) - 31 Jan 2024 (Wed)
16 Views
Date and Time
16 Jan 2024 : Full Day
17 Jan 2024 : Full Day
18 Jan 2024 : Full Day
19 Jan 2024 : Full Day
20 Jan 2024 : Full Day
21 Jan 2024 : Full Day
22 Jan 2024 : Full Day
23 Jan 2024 : Full Day
24 Jan 2024 : Full Day
25 Jan 2024 : Full Day
26 Jan 2024 : Full Day
27 Jan 2024 : Full Day
28 Jan 2024 : Full Day
29 Jan 2024 : Full Day
30 Jan 2024 : Full Day
31 Jan 2024 : Full Day
Show More
Show Less
---
Location / Links
Inspired Arts, 11 Sam Leong Rd, level 2, Singapore 207903
---
Event Details
Delve into the captivating world of "Red Dot Sky Whales" at Singapore Art Week 2024. This extraordinary exhibition, conceived and crafted by renowned artist Hamish Betts, is a testament to the creative fusion of art and sustainability.

As you step into the gallery, you'll be greeted by a breathtaking collection of majestic whales seemingly swimming through the sky. What makes this exhibition truly remarkable is the artist's commitment to environmental responsibility. Each sculpture is meticulously sculpted from reclaimed materials, including an abandoned kayak discovered during a beach cleanup on Changi Beach. Every piece is adorned with recycled materials, transforming discarded items into magnificent works of art.

The process behind "Red Dot Sky Whales" was a labor of love, spanning three months of dedication and ingenuity. Witness the transformation of waste into wonder as you explore this unique showcase. Join us in celebrating Hamish Betts' remarkable talent and commitment to sustainable art at this unforgettable event during Singapore Art Week 2024.
Admission Rule
All are welcomed at our space!
Events That Match Your Vibe
Be The First To Catch the Hottest Events
Why settle for the ordinary?
Don't wait in line. Get the newest and hottest event updates sent to you!