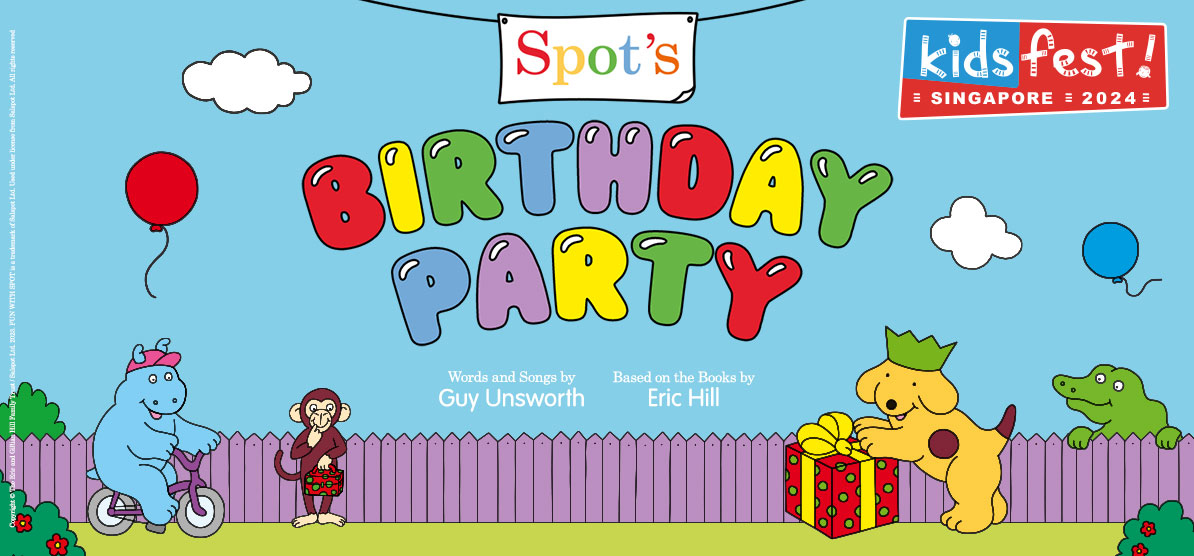 Spot's Birthday Party [G]
15 Feb 2024 (Thu) - 18 Feb 2024 (Sun)
7 Views
Date and Time
15 Feb 2024 : 11:00 - 11:55
15 Feb 2024 : 14:30 - 15:25
15 Feb 2024 : 17:00 - 17:55
16 Feb 2024 : 17:00 - 17:55
17 Feb 2024 : 11:00 - 11:55
17 Feb 2024 : 14:30 - 15:25
17 Feb 2024 : 17:00 - 17:55
18 Feb 2024 : 11:00 - 11:55
18 Feb 2024 : 14:30 - 15:25
18 Feb 2024 : 17:00 - 17:55
Show More
Show Less
---
Location / Links
Victoria Theatre
---
Event Details
Spot is having a very special birthday party and you're invited!

With party hats, songs, dancing and lots of interactive party games, this is going to be the best birthday party ever!

Join Steve the monkey, Tom the Crocodile and Helen the Hippo to say a big HAPPY BIRTHDAY SPOT!

Based on the beloved Eric Hill classic Happy Birthday Spot, this brand-new adaptation brings your favourite pup and his friends to life in an interactive and accessible show suitable for ages 2 plus and their grown ups.

Performances for schools are available for certain performances. Please email Kamun.Yau@aba-productions.com for more information.

Please note that there will be no refund or partial refunds on discounts once tickets have been issued and paid for.
Admission Rule
Rating / Age Limit


Rating: General
For children aged 3 and above and their families
All patrons must purchase a ticket for entry
Admission is subject to tickets produced at the entrance


Late Seating Advisory


For the enjoyment of all audience members, all events start promptly at the time printed on the ticket.
Please be seated 15 minutes before the performance start time.
Late arrival may result in non-admittance until a suitable break in the performance.


Photography / Video Recording Rules


Photography, Video recording & Audio recording is not allowed for this event
Events That Match Your Vibe
Be The First To Catch the Hottest Events
Why settle for the ordinary?
Don't wait in line. Get the newest and hottest event updates sent to you!