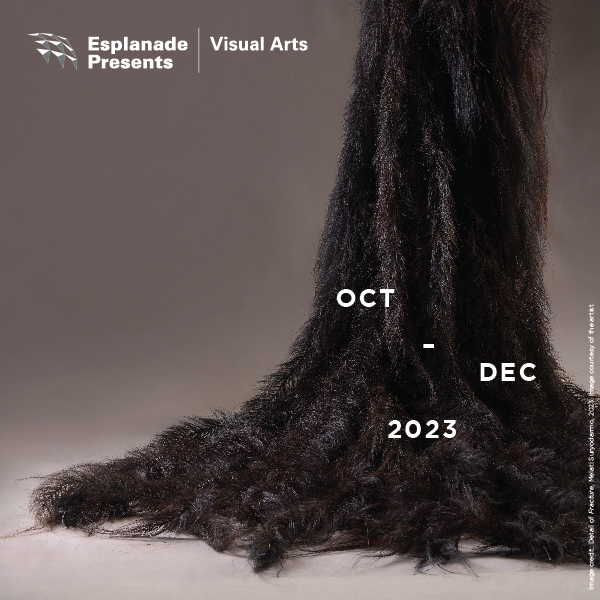 Esplanade Presents | Visual Arts
29 Sep 2023 (Fri) - 07 Jan 2024 (Sun)
18 Views
Date and Time
29 Sep 2023 : Full Day
---
Location / Links
---
Event Details
Featuring newly commissioned installations and site-specific works, the four exhibitions around Esplanade reflect our unwavering commitment to supporting the creation of new productions by Singaporean and Southeast Asian artists. In three of these four presentations, the artists unearth enduring interests revolving around embodied movements, the body, as well as ideas of care, empathy and well-being.

At Jendela (Visual Arts Space), Fracture by Melati Suryodarmo (Indonesia) unveils the connections that tie behaviours with prehistoric roots to the tapestry of our present existence through an installation of objects, cyanotype prints and video. Part of the exhibition will comprise durational performances where Melati and two performers enact symbolic gestures that evoke primal ways of being. As the performers interact with the installation, the environment gradually transforms, with the objects embodying new layers of meaning. Melati's work invites us to contemplate our identity, the interplay of our shared experiences, and the untold stories that reside within us all.

Explorations of movement and gestures are also experienced in Performing Care by Alecia Neo (Singapore) at the Esplanade Tunnel. This exhibition is an iteration of the artistic research project Care Index, initiated by Neo, which gathers and enacts diverse care practices performed through everyday gestures and rituals by people from all walks of life. Through moving images, prints and text, Neo delves into the intricacies of caregiving, making visible the multifaceted aspects embedded in caregiving relationships and ecosystems. A central part of the exhibition is a video triptych where Neo collaborated with dance practitioners to explore how care practices sculpt the carer's vulnerable body, the pervasiveness of self-care industries, and how bodies could resist the pressures of bureaucratic or capitalistic systems.

At the Esplanade Community Wall, A Place for Nobody by Michael Lee (Singapore) unfolds through drawing, text and diagram to examine ideas of anonymity, acceptance and empathy. In these works, Lee also endeavours to unveil the intricacies and subtleties of communication, language and social roles in understanding and interpreting everyday realities. Brought together, the works revel in the quiet existence and implicit connections of our daily lives and think about how living in a city structures human thought, feelings, actions while fostering spaces for shared well-being.

Finally, suspended across the Esplanade Concourse, A Folding Scene by Guo-Liang Tan (Singapore) comprises six angular forms of varying sizes and shapes softened by the use of aeronautical fabric: a material favoured by the artist for its lightness, translucency and ability to glide paint. Awash with glowing colours, including violet, orange, pink and varying shades of blue and green, the works are created through a process of folding and unfolding fabric before layering paint over its surface. The painterly surfaces by Tan expands upon the artist's ongoing explorations into the idea of paintings as objects existing in space.
Events That Match Your Vibe
Be The First To Catch the Hottest Events
Why settle for the ordinary?
Don't wait in line. Get the newest and hottest event updates sent to you!