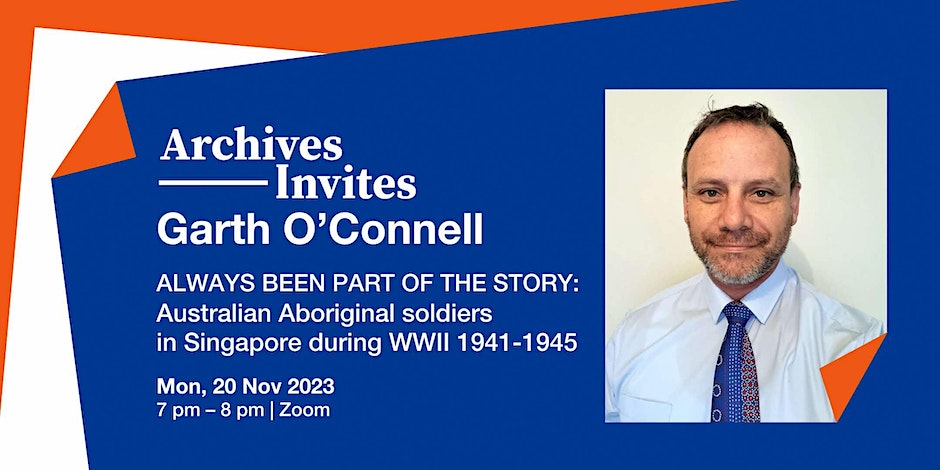 Archives Invites: Garth O'Connell | ALWAYS BEEN PART OF THE STORY - Australian Aboriginal soldiers in Singapore during WWII
01 Nov 2023 (Wed) - 20 Nov 2023 (Mon)
17 Views
Date and Time
20 Nov 2023 : 19:00 - 20:00
---
Location / Links
---
Event Details
When people think of the diversity of the people from around the world who were involved in the fight for and subsequent fall of Singapore in 1942, very few would be aware of the Australian Aboriginal contribution.

These young servicemen came from a desperately unequal Australian society with all but one experiencing their first ever time away from Australia. At least 11 of the 87 captured on Singapore, never left the island.

This presentation sheds light on them along with their shared sufferings and experiences with fellow soldiers and civilians during the fighting and subsequent time as prisoners of war.

About Speaker
Garth O'Connell is a Curator in the Gallery Development team at the Australian War Memorial. He is of Aboriginal (Gomeroi nation), Chinese, Scottish and Irish descent. Within his family he is a fourth-generation army veteran, and among his many interests is the wartime history of Singapore, the Vancouver Canucks ice hockey team and the proud military service of other First Nations Australians.

About Archives Invites
Community histories unfold in this series that traces Singapore's social past with help from the archives.
Admission Rule
Free admission upon registration.
Events That Match Your Vibe
Be The First To Catch the Hottest Events
Why settle for the ordinary?
Don't wait in line. Get the newest and hottest event updates sent to you!