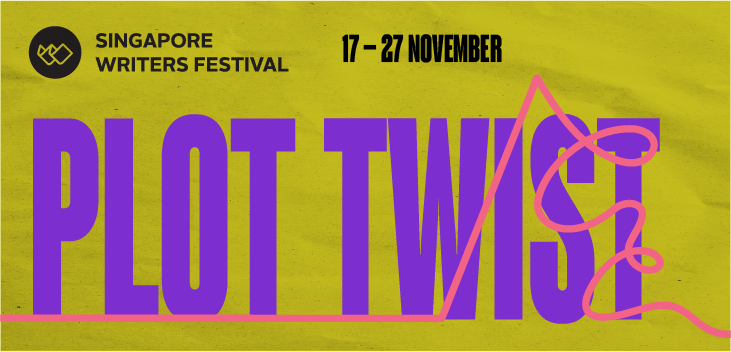 Singapore Writers Festival 2023: Plot Twist
17 Nov 2023 (Fri) - 26 Nov 2023 (Sun)
57 Views
Date and Time
17 Nov 2023 : Full Day
18 Nov 2023 : Full Day
19 Nov 2023 : Full Day
22 Nov 2023 : Full Day
23 Nov 2023 : Full Day
24 Nov 2023 : Full Day
25 Nov 2023 : Full Day
26 Nov 2023 : Full Day
Show More
Show Less
---
Location / Links
Various Venues - SWF
---
Event Details
Theme: 
Plot Twist  

Maybe living in strange times means embracing strange approaches. An unexpected outcome, a sudden change in direction, unlikely connections. This year at SWF we're embracing the unpredictable. What happens when you put things that seemingly don't have anything in common, together? No spoilers please!

Join us at more than 200 programmes over two Festival weekends. From Festival favourites to unexpected new offerings, there is something for everyone of all ages in this year's exciting line-up that spans immersive experiences, exhibitions, performances, film screenings, meet-the-author sessions and conversations. 
Admission Rule
Admission rules wwould varies to each program, for more information, tune into our website:
https://www.singaporewritersfestival.com/

Events That Match Your Vibe
Be The First To Catch the Hottest Events
Why settle for the ordinary?
Don't wait in line. Get the newest and hottest event updates sent to you!